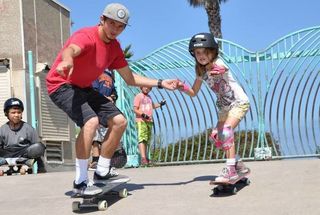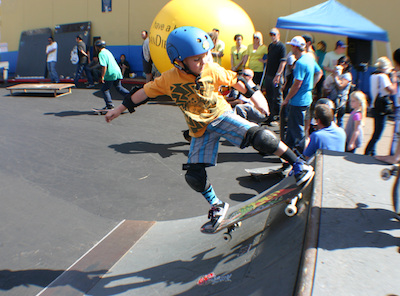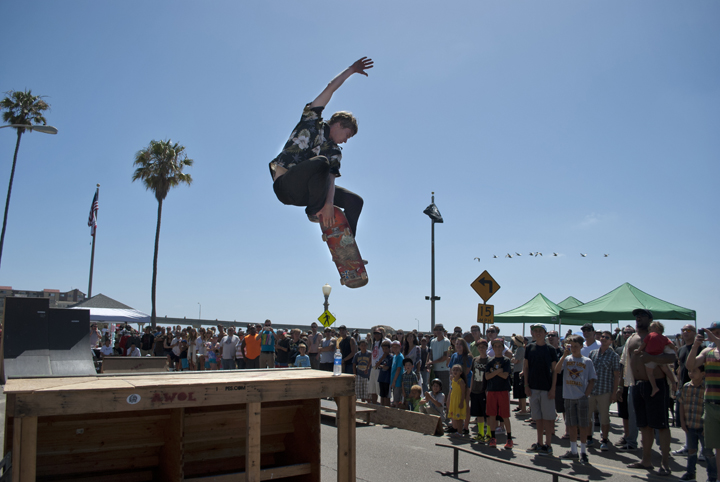 Who: Anyone
Age: 5+
Experience: No Experience Necessary
When: Everyday @ 1:00pm
Lessons are 90 minutes in length
Where: Robb Field Skate Park
Equipment: We recommend using your own board and safety equipment to become comfortable on your own gear, but we will have some to let you borrow during the lesson if you do not currently have gear.
What to Bring:
Water Bottle

Sunscreen

Close Toe Shoes

Protective Clothing
Only $75 for 90 minutes
Our comprehensive instruction includes fundamental skill development taught in a progressive sequence that helps beginners learn to skate and intermediate skaters learn to rip.
Lessons focus on balance, position, proper technique, mechanics, specific tips and tricks taught by our staff of experienced instructors.
Students will learn how to master basic tricks such as ollies, kick flips and shove-its. Beginning skaters will learn the skills necessary to drop in on a mini ramp, half pipe or bowl.
We offer lessons to more experienced skaters who want to improve their skating to a competitive level.
Our instructors are committed to each students' success and devote individual attention to all participants. Our proven instruction method allows every student to build confidence and achieve their goals.
Our certified instructors use our proven skill progressive method so that students can slowly advance to the next level, safely and within their level of comfort.
Where do we go for our lesson?
Go to the end of Robb Field, the skate park is located at the very end of the parking lot. There is a roundabout at the end, this is where you can park. There are restrooms and a drinking fountain. Our instructor will be at the palm trees at the entrance of the skate park next to the restrooms at the roundabout.
Is there Parking?
Robb Field Skate Park: There is plenty of parking in the parking lot, it's free and not timed.
The shop on Newport Avenue: is only 2 hour parking, but there is free unlimited parking at the beach parking lots near the pier and the Lifeguard Tower 1 (the end of Santa Monica). There is also free unlimited parking on Santa Monica, which is behind our shop next to the CVS store. We are not responsible for parking, or vehicles, or any citations you may receive; so please pay attention to the street sign and feel free to ask one of our team members about where you parked to they can help you.
I Bought a Lesson for my Family/Friend, can I watch?
Yes, of course! But be ready to want to jump in on the lesson because it's easy to follow and a ton of fun.
Cancellations & Refunds: All Sales are Final. No Refunds. If Ocean Experience cancels a lesson, we will offer credit for a lesson for a future date. Refunds will not be granted if the student is running late, needs to leave early, or misses the lesson.