Open Group Surf Lesson
FREE RENTAL AFTER YOUR LESSON!
50% OFF RENTALS FOR A WEEK!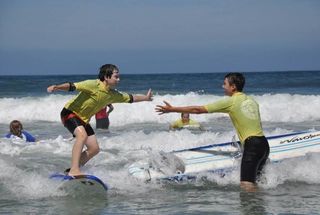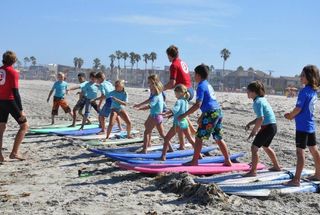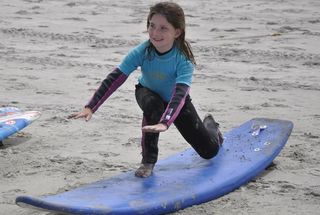 Who: Anyone
Age: 5+
Experience: No Experience Necessary
When: Everyday 10:00am or 2:00pm
Lessons are 3 hours in length
Where: Ocean Beach Surf & Skate
Equipment: All Equipment Included
We provide the wetsuit and surfboard
What to Bring:
Water Bottle

Sunscreen

Athletic wear (dry land portion)

Swim Wear (ocean portion)

Towel
Perfect for 1 or more People
Open Group is where other people can join the surf lesson,
Don't worry we keep a 5:1 Student:Intructor ratio
It's a Surf Party
ONLY $35/Hour
Welcome to the wonderful world of surfing. We will not just teach you how to surf, we will give you the tools and knowledge to surf on your own
At Ocean Experience Surf School you will learn the 5 Fundamentals of Surfing, where you will develop surf riding skills, and a love for the ocean.
Your lesson will start with a land based portion where we will teach you our step-by-step comprehensive lesson plan that will develop your skills and muscle memory as you perform activities that are based on the 5 Fundamentals. Your friendly and professional instructor will guide you every step of the way.
The second portion of your lesson is where you will spend 2 hours with your instructor out in the ocean applying your newly developed skills in the waves of the Pacific Beach.
FREE RENTAL AFTER YOUR LESSON!
50% OFF RENTALS FOR A WEEK!
Where do we go for our lesson?
Come to our Ocean Beach Surf & Skate shop and our friendly team members will show you to our vintage surfboard room where you will start your dry land "classroom" instruction.
What about my stuff, like keys and shoes?
We will store your stuff in the classroom during your lesson.
Is there Parking?
The front of the shop on Newport Avenue is only 2 hour parking, but there is free unlimited parking at the beach parking lots near the pier and the Lifeguard Tower 1 (the end of Santa Monica). There is also free unlimited parking on Santa Monica, which is behind our shop next to the CVS store. We are not responsible for parking, or vehicles, or any citations you may receive; so please pay attention to the street sign and feel free to ask one of our team members about where you parked to they can help you.
I Bought a Lesson for my Family/Friend, can I watch?
Yes, of course! But be ready to want to jump in on the lesson because it's easy to follow and a ton of fun.
Established in 1990, Ocean Experience Surf School was introduced as San Diego's first surf school. Since then, we have shared our knowledge for surfing and appreciation for the Ocean with over 15,000 students.
Ocean Experience offers San Diego's most comprehensive surf lessons. Our instructors are certified in CPR, first aid and advanced life saving.
Our 2 to 3 - hour surf lesson teaches students the five fundamentals of surfing in a progressive sequence to master the art of catching waves. Ocean experience offers surfing lessons for advanced, intermediate and beginner students of all ages in private 1 on 1, private group, and open group settings.
Lessons are designed to take your surfing to the next level. Our goal is to build the confidence and provide ocean awareness to students of all skill levels. With our authentic San Diego style, we will have you up on a board in no time.
Cancellations & Refunds: All Sales are Final. No Refunds. If Ocean Experience cancels a lesson, we will offer credit for a lesson for a future date. Refunds will not be granted if the student is running late, needs to leave early, or misses the lesson.